EFEKTIFITAS DUPONT ANALYSIS UNTUK MENILAI PROFITABILITAS PERUSAHAAN ASURANSI JIWA NASIONAL
I Nyoman Winata

Sekolah Tinggi Manajemen Asuransi Trisakti
Keywords:
Effectiveness, DuPont Analysis, and Profitability
Abstract
This research aims to analyze the description of the financial condition of the DuPont analysis of national life insurance companies, and to analyze the impact of the financial condition of DuPont analysis on the performance of national life insurance companies. The data is taken from financial reports for 4 (four) years from 2016 - 2019, which have been published which are data before the Covid-19 pandemic, via the website of each company. The research method used is descriptive qualitative with a case study approach on 10 (ten) national life insurance companies that have assets of more than IDR 1 trillion. The research samples are Return on Equity (ROE), Return on Assets (ROA), Total Assets Turn Over (TATO), Net Profit Margin (NPM), and Debt Ratio (DR). Meanwhile, data analysis was carried out by: tabulating data, performing calculations and grouping DuPont analysis, interpreting to determine the level of company profitability, and drawing conclusions on the results achieved. The results of the study show that the financial condition of national life insurance companies using DuPont analysis is generally less effective and efficient. The company has not utilized its resources fully, effectively and efficiently in terms of achieving maximum sales results, and the company still uses a lot of debt for its investment.
Keywords: Effectiveness, DuPont Analysis, and Profitability
References
Akbar, M. (2019). Analisis Kinerja Keuangan Dengan Menggunakan Sistem Du Pont Pada PT. Asuransi Wahana Tata.
Ayat, Safri. (2012). Pengantar Asuransi, Prinsip-Prinsip dan Praktek Asuransi, Cetakan Kedua, STMA Trisakti, Jakarta.
Damayanti, L., Yudhawati, D., & Prasetyowati, R. A. (2019). Analisis Du Pont Untuk Mengukur Kinerja Keuangan Perusahaan. Inovator, 8(1), 52–68.
Fahmi, Irham. (2014). Pengantar Manajemen Keuangan, Cetakan Ketiga, Penerbit: Alfabeta, Bandung
Fikri, M. (n.d.). Pengaruh Premi, Klaim, Hasil Investasi dan Underwriting Terhadap Laba Perusahaan Asuransi Jiwa (Studi Kasus PT. Asuransi Syariah Mubarakah).
Jerry J., Weygandt, dkk. (2013). Financial Accounting, IFRS Edition, John Wiley & Sons, Inc., United States of America.
Kasmir. (2015). Analisis Laporan Keuangan, Cetakan ke-8, Penerbit: PT Raja Grafindo Persada, Jakarta.
Keon, J., Arthur, dkk. (2005). Financial Management, Principles and Aplication, International Edition, Tenth Edition, Pearson Prentice Hall, New Jersey.
Munawir, S. (2012). Analisis Laporan Keuangan, Edisi Keempat, Cetakan keenam Belas, Penerbit: Liberty, Yogyakarta.
Muliasih, R. T. (n.d.). ANALISIS LAPORAN KEUANGAN DENGAN METODE ANALISIS DU PONT PADA PERUSAHAAN ASURANSI UMUM UNIT USAHA SYARIAH. STUDI KASUS PADA: PT ASURANSI JASA RAHARJA PUTERA, PT ASURANSI SINAR MAS, DAN PT ASURANSI CENTRAL ASIA.
Pramestika, D. W. (2019). PENGARUH TINGKAT KESEHATAN PERUSAHAAN ASURANSI TERHADAP PERTUMBUHAN PREMI NETO DAN PROFITABILITAS PERUSAHAAN. Journal of Economics Development Issues, 2(01), 26–37. https://doi.org/10.33005/jedi.v2i01.24
Prihadi, Toto. (2007). Mudah Memahami Laporan Keuangan, Seri Panduan Praktis No. 42, Cetakan 1, Penerbit: PPM, Jakarta.
Republik Indonesia, Undang-Undang Nomor 40. (2014). tentang Perasuransian, Jakarta.
Raza, S. A., Jawaid, S. T., & Adnan, M. (2013). A dupont analysis on insurance sector of south Asian region, Munich Personal RePEc Archive (MPRA), https://mpra.ub.uni-muenchen.de/49289/
Sanjaya, S. (2018). Analisis du pont system dalam mengukur kinerja keuangan pt. Taspen (persero). Jurnal Riset Akuntansi Dan Bisnis, 17(1).
Sartono, Agus, R. (2001). Manajemen keuangan, Teori dan Aplikasi, Edisi 4, BP-FE, Universitas Gajah Mada, Yogyakarta.
Satria, Salusra. (1994). Pengukuran Kinerja Keuangan Perusahaan Asuransi kerugian di Indonesia dengan Analisis Rasio keuangan "Early Warning System", Lembaga Penerbit FE Universitas Indonesia, Jakarta.
Subekti, R. dan Tjitrosudibio. (2014). Kitab Undang-Undang Hukum Dagang dan Undand-Undang Kepailitan, Jakarta.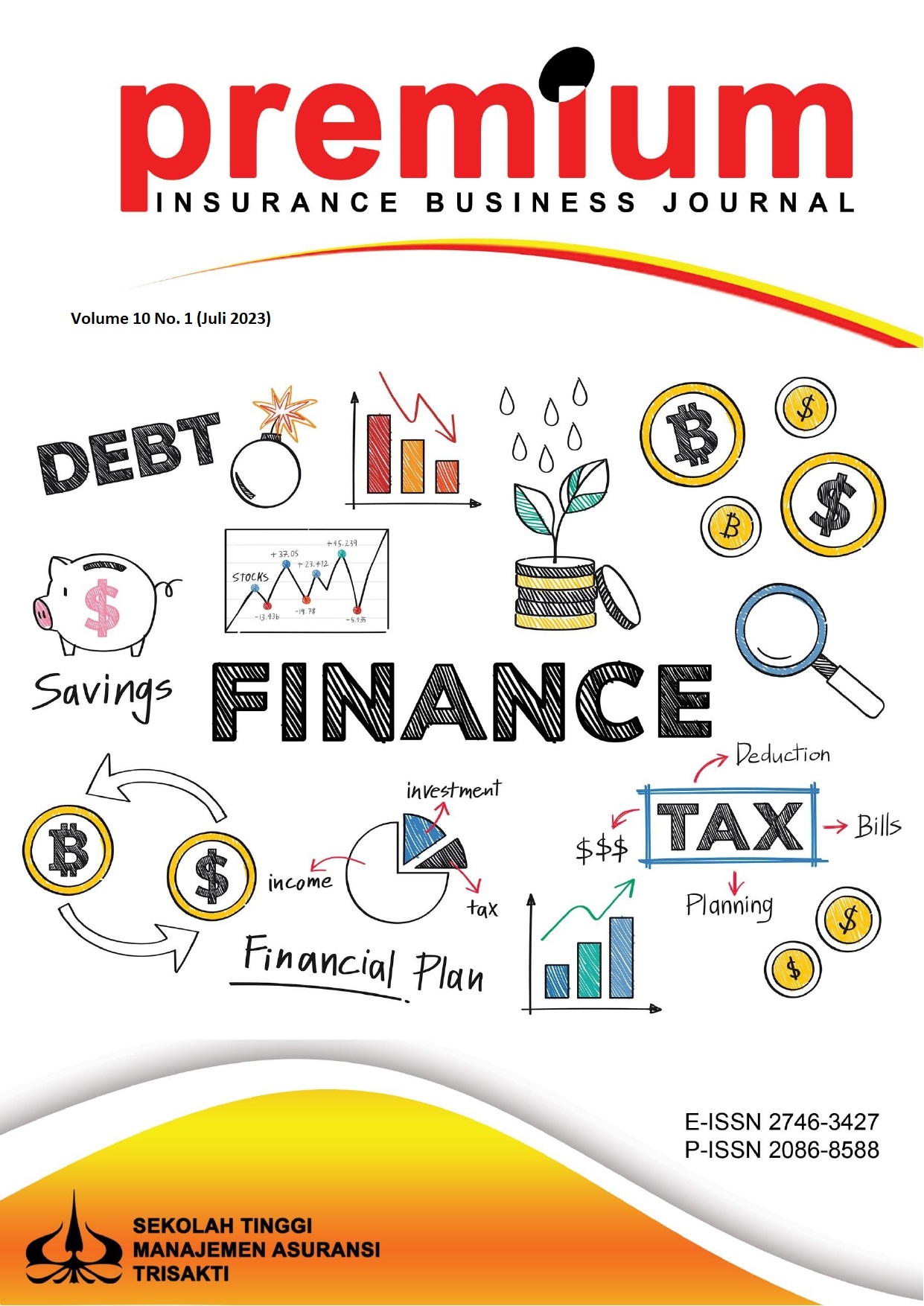 How to Cite
I Nyoman Winata. (2023). EFEKTIFITAS DUPONT ANALYSIS UNTUK MENILAI PROFITABILITAS PERUSAHAAN ASURANSI JIWA NASIONAL . Premium Insurance Business Journal, 10(1), 42 - 55. https://doi.org/10.35904/premium.v10i1.48