PREDIKSI PERGESERAN PANGSA PASAR PADA BEBERAPA PRODUK ASURANSI KENDARAAN BERMOTOR MENGGUNAKAN PENDEKATAN RANTAI MARKOV
Marta

Program Studi S1 Manajemen, Sekolah Tinggi Manajemen Asuransi Trisakti

Dwi Haryanto

Program Studi S1 Aktuaria, Sekolah Tinggi Manajemen Asuransi Trisakti

M. Nasyubun

Program Studi D3 Asuransi Jiwa, Sekolah Tinggi Manajemen Asuransi Trisakti
Keywords:
market share, insurance products, Markov chain
Abstract
The diversity of motor vehicle insurance products sold at PT Asuransi Central Asia cabang Cikini makes the choice of products can be tailored to the needs of each insurance buyer. This difference in needs is of course an important thing to be considered by the company in preparing a work plan in the future. By knowing market share and future market share changes, companies can more easily recognize the buying interest and selling power of the products they have. Market share and market share shifts between products in the future can be predicted using the Markov chain method. The result obtained is that insurance companies need to pay more attention to products that are still less desirable judging by the number of sales in a year. This aims to maintain the stability of product sales, especially the company's superior products to be more competitive when juxtaposed with conventional products sold also in other insurance companies.
References
Aswin, R. (2010). Penentuan Peluang Transisi t Langkah dalam Rantai Markov dan Penerapannya di Bidang Pertanian. Skripsi Departemen Matematika . Medan: FMIPA Universitas Sumatera Utara.
Ayu, G. (2017). Pengantar Proses Stokastik.Denpasar: Fakultas MIPA Jurusan Matematika.
Cholis, N. (2016). Pembelajaran Mekatronika Berbasis Proyek.Yogyakarta: Deepublish.
Fletcher, Hoyle, & Patty. (1991). Foundations of Discrete Mathematics.Boston: PWS-Kent.
Haryanto, D., & Syuhada, K. I. (2019). Prediksi Risiko Perubahan Perilaku Nasabah Asuransi Berbasis Matriks Stokastik dan Model INAR (1) Poisson. Jurnal Matematika Integratif, 15(2), 89.
Isaacson, D. L., & Madson, R. W. (1976). Markov Chains: Theory and Applications.New York: John Wiley and Sons.
Siagian, P. (2006). Penelitian Operasional.Jakarta: UI Press.
Tan, W.-Y. (2002). Stochastic Models With Applications To Genetics, Cancers, Aids And Other Biomedical Systems (Second Edition).World Scientific Co.Pte.Ltd,Singapore.
Tjoe, T. F., & Sarjono, H. (2007). Model Rantai Markov Pangsa Pasar Operator Selular di Universitas Bina Nusantara, Jakarta Barat. Journal the Winners, 141.
Walpole, R. E., & Myers, R. H. (2016). Probabiliy & Statistics for Engineers & Scientists.Pearson.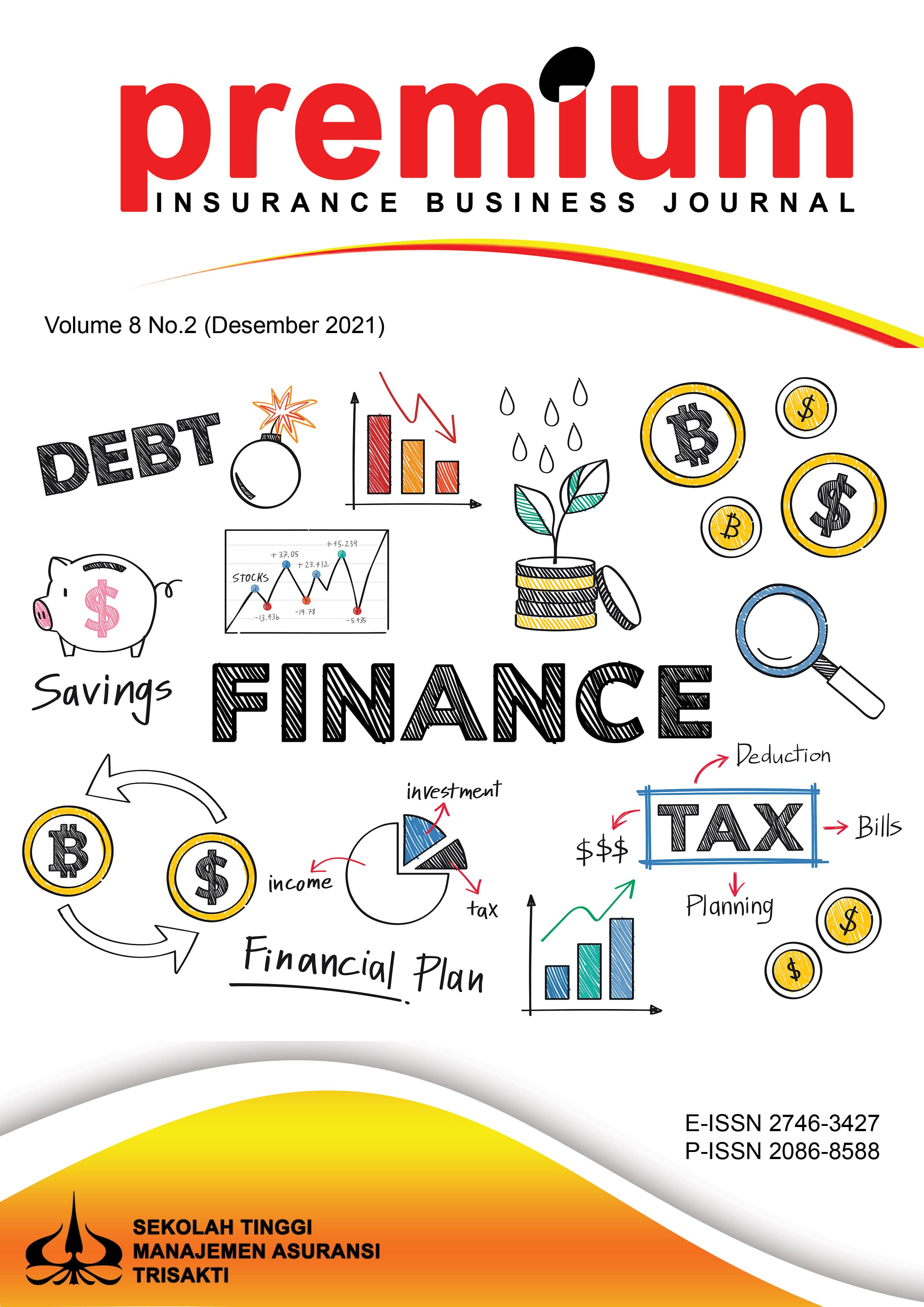 How to Cite
Panjaitan, M., Haryanto, D., & M. Nasyubun. (2021). PREDIKSI PERGESERAN PANGSA PASAR PADA BEBERAPA PRODUK ASURANSI KENDARAAN BERMOTOR MENGGUNAKAN PENDEKATAN RANTAI MARKOV. Premium Insurance Business Journal, 8(2), 1 - 11. https://doi.org/10.35904/marta080201